One of the major objectives of the ISI is to stimulate and disseminate research, best practices, and advancement in statistical science and statistical education. Our conferences play an important role in this. 
I have just returned from a highly successful 3rd Regional Statistical Conference in Livingston, Zambia which was held in conjunction with the 17th IAOS Conference.
We envisage these conferences as a way of bringing the benefits of the World Statistics Congress more regularly to different parts of the world.
The Zambia conference followed on from those held in Kuala Lumpur (2014) and Bali (2017) and was originally scheduled for 2020. Delayed by the pandemic, this third conference – the first held in Africa since the WSC in Durban in 2009 – met all our expectations, and our thanks go to Zambians, who hosted us.
Image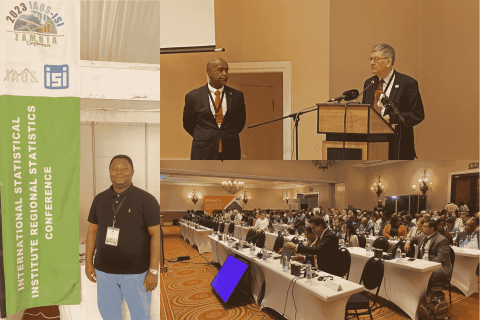 Given the joint nature of the conference with IAOS (International Association for Official Statistics), there was much here for official statisticians.
But there were also sessions of interest to the more academic among you; whether it is longitudinal studies, forecasting or small area estimation, there was something here for all.
I was pleased to see the relevance of many of the talks to the issues faced in Africa today. Sustainable development and climate change were on the agenda, and so were health statistics, mortality and fertility, employment, education, and agriculture. 
Statisticians play an important role in explaining the impact of global issues to governments, businesses, and citizens – and helping to evaluate policy options and monitor outcomes.
As statisticians we have an important leadership role, to ensure that decisions are taken on the best available evidence, the best available data, and to ensure that users of statistics understand the strengths and limitations of the statistics they use.
I enjoyed some sessions about how we could work together more collaboratively, including on bridging the gap between official statistics and theoretical statistics, on statistical governance and on relationships with users.
I see this regional conference as an essential part of our capacity building efforts in Africa. 
In the coming years the ISI will focus on the need to support developing countries to modernise and broaden their approaches to statistical and data science, and to adapt to modern data ecospheres. This will include developing more sustainable approaches to developing statistical skills; the development of cross-disciplinary partnerships; and making the case for investment in statistics by a wide range of potential donors.
In particular, the ISI will promote:
continued learning for its members around sound  statistical and data science
overall coordination on building the 'data consensuses' envisaged by the World Development Report
supporting data and statistical literacy initiatives to support statistics production and use
maintaining the scientific independence of statistics across all data communities, and 
the development of professional communities focused on statistics and data science for the public good at regional, national, and sub-national level. 
I was delighted that our new 'Communities' initiative was launched during the conference. This will enable a network of ISI members to be established in Africa, and in other parts of the world, and for different interest groups, as members wish.
At the beginning of the conference I urged delegates to make the most of these few days of coming together, to have useful dialogues, develop thinking, and take back new ideas. 
At the end of the conference, I reflected that I could see these aims being met. Zambia had given us a great opportunity to come together, meet socially, and in a beautiful part of Africa.
The 4th ISI Regional conference will be in Macau, China next January, and the 5th will be in Mexico City in May 2024. So, look out for opportunities to contribute to these conferences and help develop our contribution to statistical science.